Jamie Grace, a 19-year-old singer-songwriter who is appearing as part of Women of Faith's popular "Revolve Tour," has been signed by Gotee Records, helmed by Joey Elwood and multiple GRAMMY® winner TobyMac.
Hailing from outside of Atlanta in Lithonia, Georgia, Jamie is a college student who aside from her career and touring as a singer-songwriter, is also studying children's ministry. At age 11, Jamie Grace was diagnosed with Tourettes Syndrome, and has since traveled the country sharing her story and faith through music and speaking.
Jamie Grace names some of her influences as: Johnny Cash, Ayiesha Woods, Zooey Deschanel, Reba McEntire and Mahalia Jackson.
Visit
http://jamiegrace.com
for Jamie Grace's latest info, tour dates and updates.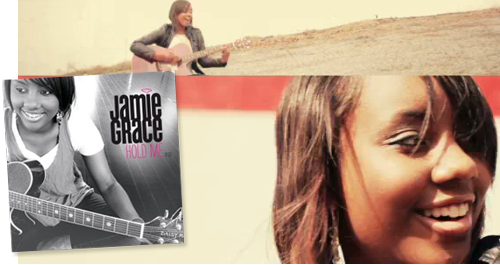 From the Site Founder
From her bright personality to her fun and relatable lyrics, Jamie Grace is bringing a unique light to the music scene, and inspiring the world one song at a time...
I created this site to help spread the word about Jamie Grace and her music. Along with the fact that I have her songs on repeat on my phone, there are so few young artists out there who are creating inspiring, positive music with substance, and I wanted to show my support! Check out the site, leave some love and tell your friends about this creative artist who is using her talents to encourage and uplift.
I got to see Jamie Grace in action at Women of Faith's event for teens The Revolve Tour Dream On event in January (
check out some pictures from the event
) and her story and how focused she is at only 19-years-old is so inspiring. She shared her testimony of how God helped her to deal with a diagnosis of Tourette Syndrome when she was 11-years-old and how she started acting and playing music despite hardships and dealing with discovering who she was. She also shared her song "Hold Me," and an original song dedicated to Revolve. Despite being her first time being on the Revolve stage she seemed like a seasoned pro and was really inspiring and relatable. She's an awesome inspiration to me on how God can launch you into your dreams if you trust, practice your craft and give all you do to Him.
I've been following Jamie Grace on Youtube since a few years back after I stumbled across one of her videos when I was randomly looking for a review of High School Musical 2 (don't judge me, I was a bored college student...ok I admit I love High School Musical;). I was inspired by her videos talking about dealing with Tourette Syndrome and the song covers she did with her guitar. Now she's sharing her story and songs around the country; she's really come a long way and I know this is only the beginning for the amazing places she's going!